One important thing my colleague and co-founder Iain Smith introduced to our Women in Transport Lead programme, was the work of Shirzad Chamine, and his TED talk "Know Your Inner Saboteurs". When you have a quiet moment, this is well worth twenty minutes of your time.
There is also the free on-line saboteur questionnaire which you can complete; we use this with our programme too.
I will let you into a secret. I was not too keen on this body of work at the beginning. I thought it interfered with my passion for strengths by focussing on the negative.
But now that over sixty of our participants have used it, and thirty more with my face to face work with Women in Rail Malaysia and YTL this week, I can tell you it seems to make sense for people. It offers a description of themselves they find useful.
From these experiences I have developed my skills in understanding how to channel and soften saboteurs, helping others to do the same too. From scores of conversations my own approach and narrative now allows for:
self compassion – our saboteurs arose as a survival mechanism in our early years,
each of us to generate an empowerment approach to moving forward; from greater self knowledge and self awareness.
Here's the key: our saboteurs from our childhood are from "way back then", and yet today we are in the "here and now". We have more maturity, perspective and capability now; knowledge of our saboteurs helps us with our choices in how we are with ourselves and others.
Knowledge of our saboteurs helps us understand our starting point.
Need more detail for this to make sense? Here is a description from the website: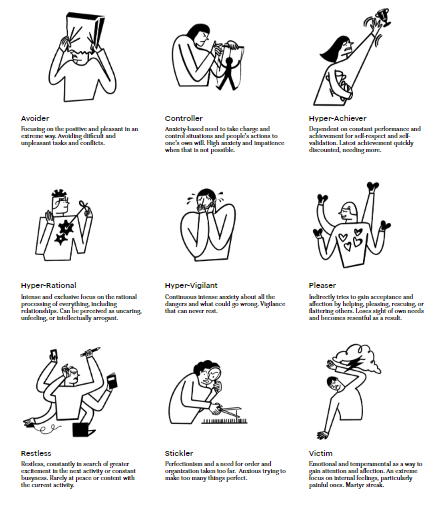 The questionnaire helps you clarify which your top ones are; for me it's controller and restless.
On a bad day, with my controller saboteur I start to micromanage. On a bad day with my restless saboteur I am always running away to the next thing.
On a good day, I employ my controller towards enabling others to act, and orchestrating for things to happen.  On a good day with my restlessness I actively choose variety and challenge.
How has the saboteurs questionnaire helped me with this?
It has given me and those around me a language, for describing how I can, for better or worse, be with others. This then allows others to let me know the impact of the good day/bad day scenarios on them, and tell me how they would like me to adjust
The labelling helps these saboteurs feel more manageable, more part of my life, rather than all of it. This then allows other parts of my life, and my other strengths, to emerge, thrive and exist at the same time
The awareness, the labelling and my own belief that we can grow and develop help me feel I can operate from a position of more choice. And from a position of more choice, I feel empowered to work with my saboteurs, rather an unaware approach of repressing, suppressing or denying these parts of me, which never seems to work out well!
I wonder what your top two saboteurs might be? The questionnaire takes about 10 minutes to complete; see if self awareness can help your choices too.
And if you would welcome a conversation to discuss your results, get in touch. It could help you own your results more deeply, allowing further progress to be made.
Gill How loves to work internationally with managers, executives and professionals to help them to evolve, stretch and grow their leadership capability.
She is a Master Executive Coach and innovative Leadership Developer. If she can help you in developing the potential of women and men in your organisation, contact her at 
Gill would particularly like to thank Natasha Zulkifli, Rozania Mohd Khir, Amirah Azmi and Aishah Arinah Binti A Aziz from the YTL Learning Academy for all their support, encouragement and teamwork in making the Women in Rail Malaysia event and other training happen!
We had a little bit of fun too, visiting the Petronas Towers at sunset!
Video credit: Muhammad Amirullah bin Ramli (Amir) Photo credits: YTL Learning Academy