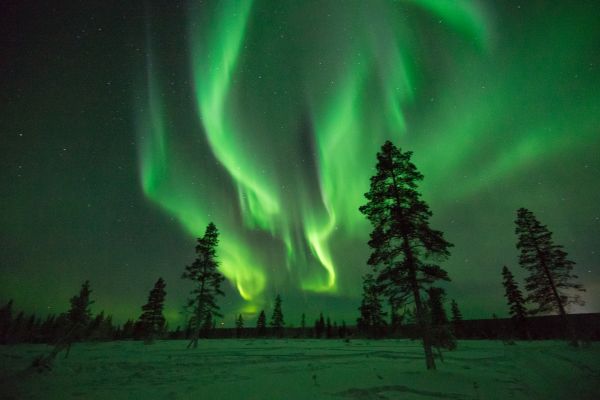 In December we went to Lapland in Finland to see the Northern Lights. It was Martin, my husband's birthday and he had a long held aspiration to do this, I was keen to go too. We chose carefully: away from light pollution, seven nights to maximise chances, in the Arctic Circle, away from coastal fog. We are also at a good point in the sun's eleven year solar cycle, with higher solar activity, again increasing our chances of seeing the aurora borealis.
Friends and colleagues had told us that seeing the Northern Lights is not guaranteed. Also, to the naked eye, that they can be much less green than in the photos. However much aspiration and ambition you have, and however much you plan – seeing the Northern Lights is out of your control. This is not a comfortable place for many of us seeking to create a peak experience!
So how did we get on?
The first and second nights at Muotkan we got terribly excited about seeing a glow of lights just outside the lodge, which truthfully, were a little bit hard to see with the naked eye, but the camera, with the long exposure needed, could capture.
As we gained experience we got better at sensing changes and different shapes in the sky, which were not just haze, but the Northern lights emerging. As we looked the stars surrounded us, shining brightly and were really clear and lovely to see.
On the third night a group of us travelled with a guide to a remote area on a sledge pulled by a snowmobile to look for aurora. The so called "Aurora Camp" was an open space in the forest – it felt as if we were in our own private amphitheatre. Importantly there was a hut to wait in and chat with a fire and hot drinks. When the aurora came, standing just outside the hut we were happy, excited and hugely impressed! We saw great arcs overhead, they flickered and changed place and shape continuously. As others took photographs I lay on the snow snug and warm in my many layers of clothing and watched the show evolve!
The fourth night was snowshoeing night. It was unexpectedly cold for the time of year (minus 25 degrees), so our guide took us near the camp, so we could both walk and have the option to get warm round the fire whilst waiting.
Two hours on, everyone was in the hut, except two of us. I noticed a change in the sky and said, I think that's the aurora coming. And then we were treated to a fantastic display, lasting about an hour.
The sky, the forces of nature provided a display for us of theatre, colour, light, movement – ever changing – truly awesome, ever inspiring, crimson edges and moving curtains, we could hardly believe our eyes, it just got better and better.
And here's the thing. A peak performance of nature such as this, was an even better experience for us from doing it with others. All the other people on the trip were fantastic, including the guides and staff at the lodge. Everyone was there for a reason, usually with something special to celebrate as well as having an interest in one of the world's most amazing natural phenomenon.
We gelled as a group and had a lot of fun – Australian, Scottish, Indian, French, Chinese, Finns, other Brits – on honeymoon, just engaged, birthday celebrations, visiting "Frozen" – it was an outstanding experience for all of us.  The feeling of connection from being together at that the moment was tangible, and with some photographic experimentation, our moment together was captured permanently, cementing our shared experience.
Our experience was not easy though. Even with five layers of clothing, being outside for four or five hours at minus 25 degrees was challenging, and we needed an inner resourcefulness and the camaraderie of each other to maintain confidence, enthusiasm and expectation. There is and can be no guarantee of seeing the Northern lights. It would have been so much easier to give up too soon and go indoors to the warm.
I wonder if it's always like this to experience a peak performance of nature, and if this is also true of all of our significant endeavours, where performance and outcome cannot be guaranteed.
Which leads me to you, and your aspirations for your peak performance, personal and professional,  in 2016.
What is your aspiration for peak performance in 2016? How good could the experience be?
How can you prepare? What choices can help you increase the chances of having your peak performance happen?
What or who do you want or need to be there? Who is the team? How can you engage them early and get them on board now?
And how can I help?
Can I help you to clarify what the peak performance – personal or professional – could be? Can I help you plan and compile the team to achieve it, and help you celebrate your success once you are there?
I ask you to aim high. Surely 2016 is too short for anything less than outstanding.
Photo credits: Martin How and Stuart Green
Footnote:
Completing the story for those interested in the other nights. We moved to Nellim on Lake Inari on the fifth day, but the evening was foggy. The camera could detect a low green glow, but nothing was really visible to the naked eye. The Sami museum at Inari en route though was spectacular.
The sixth night was another whopper. This time lying on reindeer skin on the frozen Lake Inari, seeing a spectacular display, again for an hour, with similarly lovely people to share the moment.
The seventh night – it snowed. An amazing afternoon driving husky dogs over the lake in the afternoon (well, you just let them lead the way really), and no Northern lights.
And thank you again to Aurora Zone for helping us to meet our aspiration to see the Northern Lights, a fantastically well organised holiday.