Clarifying your purpose is a big part of our Women in Transport Lead programme, and it's a hard thing to do. Here are three ways to feel your way into your purpose, to compliment a more typical, and maybe familiar, cognitive approach.
No. 1 – When you feel a strong sense of who you are
At university one of the first things I did was to join was the Imperial College Caving Club. Mud, wet, excitement, squeezing through rocks, pushing myself to new limits, feeling safe, connected with new mates and scared all at the same time, in awe of nature and great countryside, with all of these things I felt a strong sense of who I am.
Working for a technology company in my twenties, solving a problem collaboratively with a financial client organisation; developing trust, facilitating new thinking, designing new business processes as one team from looking at one system, implementing and improving ways of working; all these things also gave me a strong sense of who I am.
No. 2 – When you have been tested to the limit
Nine years ago I broke my elbow badly in three places falling off my bike on a charity ride. This was a total test of my resilience and commitment to get my arm straight again afterwards. It took five months of hugely painful physiotherapy exercises involving bags of sugar as weights. My motivation was clear – I wanted a straight arm.
Our son Michael has Downs Syndrome and from his additional needs we know a lot about learning disability and have heartfelt experience with inclusion. When his secondary school lost confidence in their ability to support him, feeling like we were on a challenging tightrope the whole time, we worked closely together for five years to keep aspirations high, create solutions and keep him in his local school.
No. 3 – When it resonates and feels like a tuning fork
One recent example for me was seeing a job advert for a global roll out of a management development programme. It immediately felt like me. This work took me to Russia, Ukraine and most of Eastern Europe. My work in Uganda was the same.
On my travels, there was something in the image, it was almost like a sensation, in the way trees glide around the Ta Phrom (Tomb Raider) temple at Ankor Watt in Cambodia. Maybe it touches on how I feel I can work my way around structure and continue to grow, where ever I am.
These three ideas for ways to connect with your purpose have come from a book which also resonated with me called "Powered by Purpose" by Sarah Rozenthuler.
What can you deduce from my examples about my energising purpose?
For me, I can see it is all about the growth and development of people, aligned and focussed on innovative, collaborative achievement and results. It includes working across boundaries, embracing different cultures, tackling hard, difficult and entrenched problems, aiming high, having some fun and adventure on the way, yet seeing things through to the end.
This knowledge, and refining this knowledge, helps me know what to say "yes" and "no" to everyday.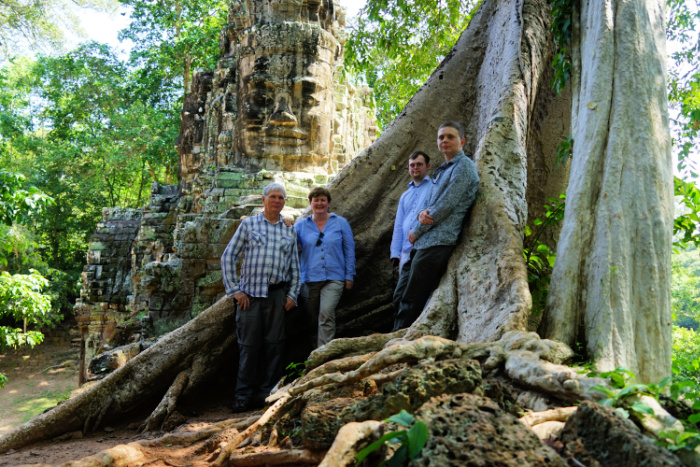 Could I use this approach to help you find your guiding purpose too?
Gill How loves to work with managers, executives and professionals to help them to evolve, stretch and grow their leadership capability. She is a Master Executive Coach and innovative Leadership Developer who works both internationally and in the UK.
We have our third programme of our Women in Transport Leadership Programme, Lead, planned for January. Here is what a participant from Programme 1 has to say:
Like this content? Sign up here for Gill's monthly blog newsletter.
Photo credits: Martin and Gill How